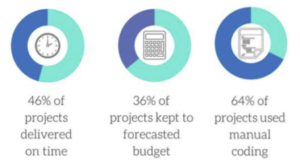 Data migration projects are complex and resource intensive.  According to a 2017 study by Data Migration Pro, less than half are delivered on time and only about one-third on budget.
Often, these projects are driven by database migration efforts. This requires in-depth technical knowledge of both the source and destination systems.
Accelerate your data migration and save money with MCANTA's powerful automation tools. Our technology is dependable, efficient, customizable and made-to-scale. It replaces extensive back-end data mapping and migration typically done by an employee with a simple front-end robotic "cut and paste."
As IT professionals who have been in your shoes for data migration projects, it's hard to believe it's that simple…but it is. 
Benefits of Automating Your Data Migration
When you forgo expensive extraction–transformation–loading efforts and leverage the business processes you've already established in the front end, you get cleaner data, reduce the labor contingent from four people to two, and get pre-made future test suites to boot! Whether you are performing regular upgrades or cutting over a new product, MCANTA's pre-scripted tests will make your data migration projects easier and more cost-effective.
Use the experience and knowledge of your star players for value-added activities important to your organization instead of unfulfilling, repetitive tasks.
Avoid complications caused by manual scripts. MCANTA's automated platform saves you both time and money by reducing human error that can occur when analyzing data or performing data transformations.

MCANTA's automation tools integrate smoothly into your environment, and can run across different web browsers, mobile and native applications.
No expensive vendor costs or infrastructure investment.

Our data migration tools are fully virtualized, which keeps your maintenance costs down with a volume-based subscription.
Our data migration tools are made-to-scale. Ramp up to meet project milestones and scale back down upon project completion. Our tools also provide precise feedback so you can easily identify areas of successful performance and which need improvement to stay on-time and on-budget.
Greater productivity.

Successful data migration projects with an expert partner.
An Engagement with MCANTA
MCANTA will work with your team to identify a data migration strategy that can be launched quickly and efficiently – typically in less than one week. Our proven deployment methods will help you test the new system end-to-end to avoid surprise bugs upon project completion.
Do you utilize two subject matter experts for data migration needs:  one who can tell you where the data lives in the existing system and another who knows how to enter it into the new system?

Would you like to ensure you can take full advantage of new system functionality?
Our experts will teach you scripting, automation, and technical best practices.  When we finish, your team will be well-positioned to create and deploy data migration projects independently in the future.