Insights on Quality Assurance from the most recent World Quality Report.
The World Quality Report for 20/21 (WQR) has been released by Capgemini and MicroFocus. As always, this 12th edition focuses on application quality assurance, and the answers from the 1750 respondents provide insights into the state of those programs. Let's look at some interesting findings from the report, focusing on North America and the connections between software quality, customer satisfaction, and business success.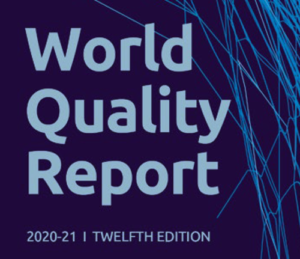 The linkage between quality assurance and CX
Customer experience (CX) (and by extension, quality assurance) can set your business (or brand) apart. Indeed CX has been identified as a key battleground differentiator (Gartner, Forbes, Wall Street Journal, Deloitte, and everyone, really). As many as 84% of companies focusing on CX see an uplift in revenue (Global Customer Experience Benchmarking Report). Application testing and quality assurance should lead to better software, better CX, and higher customer satisfaction. So, what does the WQR say about the industry's recognition of this, and how have they reacted considering this information?
The good news
The good news is that respondents clearly see the value of having higher quality software. Approximately 74% of responses said quality assurance contributions are essential to business outcomes. Additionally, 77% said end-user satisfaction was critical. This is great for businesses and consumers alike. With most businesses "getting it", what does the survey tell us about how well companies are meeting their quality goals?
Challenges
This is where the difficulties begin. Only 29% of respondents believe they always achieve desired quality assurance targets. In other words, more than 70% of organizations felt that they didn't meet their goals. If organizations understand the importance of quality to the success of their business, why is there a delivery gap? Luckily (or maybe not) the WQR responses identify existing major challenges to successful quality assurance programs:
Over one third of respondents said their teams lacked the professional expertise needed for testing,
Almost half (47%) have difficulties in aligning tools for automated testing,
And 41% said their testing approach didn't fit with their testing method.
Opportunities for quality assurance improvement
Businesses are clearly telling us they need some help in realizing the full potential of quality assurance, both in expertise and tool selection. Luckily, there are experienced practitioners, including MCANTA, that can assist with executing quality programs (identifying high-value, quick-success opportunities, building automated application testing, robotic process automation, etc.). Among the many benefits of partnering on quality assurance initiatives:
Knowledgeable expertise to guide you from start to finish.
Accelerated testing: test more things faster, speed up go-to-market.
Higher quality, improved customer satisfaction.
Greater efficiency and reliability (end to end testing, more test coverage, AI, ML).
Cost savings: Test during off-peak hours and let your team focus on higher value items.
Summary
To summarize, respondents to the latest World Quality Report recognize the need for quality in software application development before releasing to end-users. Unfortunately, a significant portion of businesses encounter barriers when trying to establish successful quality assurance programs and a majority don't meet their organizational goals. The good news is there are avenues available to accelerate and improve quality, bring your team up to speed, and take control so your organization can manage its quality assurance program for optimal results. Please contact MCANTA for a free quality assurance consultation.